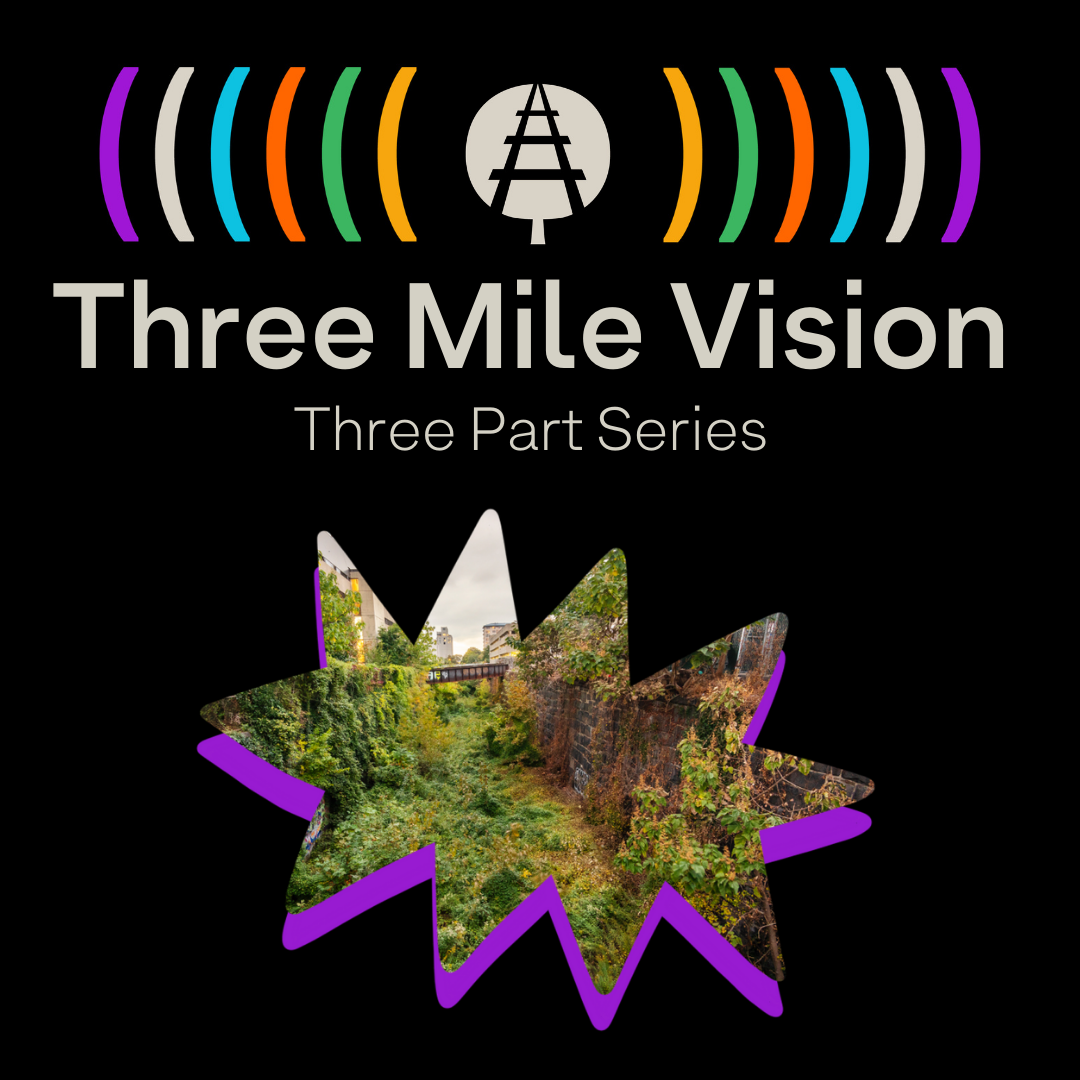 Sounds of the Rail Park presents The Three Mile Vision, a special three-episode series highlighting the communities around the rail line. 
In this series, local journalist Nichole Currie joins us as she travels the rail line and immerses herself in ten neighborhoods. You'll hear what makes each community unique and how a three-mile park system fits into their environment.
In this episode, Nichole explores The Cut. The Cut is an open air section of land that runs below street level for over half a mile, connecting the Viaduct to the Tunnel. It runs from North Broad Street near the old Inquirer Building to behind the Rodin Museum, where 22nd St meets Pennsylvania Ave. It's lined with 30-foot high stone walls and crossed by a series of bridges that support the city's north and south bound streets. 
You'll hear from James Fennel and Joe Walsh from Friends of Matthias Baldwin Park, local professor Jefferey Markovitz, and the 2019 Moon Festival creators Nadia Hironaka, Eugene Lew, and Matthew Suib.
The Sounds of the Rail Park: Three Mile Vision series was developed as a part of the Rail Park Time Capsule Initiative. The Rail Park Time Capsule Initiative is an ongoing digital community archiving project, which aims to preserve and highlight the stories, objects, spaces and places that sustain culture and hold historic value for the people that live, work, and play in the 10+ neighborhoods that the Rail Park traverses through. Submit your story to the Time Capsule!
Phase One of the Rail Park is free and open to the public every day from 7 AM to 10 PM. Plan your visit today. 
The work of Friends of the Rail Park is made possible with the support of our community. Don't wait, become a member today! 
Special thanks to our partners:
Center City District Foundation, Philadelphia Parks and Recreation, William Penn Foundation, The John S. and James L. Knight Foundation, The 1830 Family Foundation, Wells Fargo Community Giving, The Philadelphia Cultural Fund, The Pennsylvania Department of Community and Economic Development, and the Board of Directors and many members of the Friends of the Rail Park.